By Bruno Cássio – Ascom LAIS
Shortening geographical distances, consolidating and expanding international technical cooperation, and thus taking the expertise in areas related to communication, education, and innovation in health to countries all over the world are actions that have been in the routine activities of the nearly 600 researchers who make up the team at the Health Technological Innovation Laboratory (LAIS/UFRN) for over ten years. Part of this team is in Portugal to discuss new possibilities for academic and scientific partnerships with the University of Porto and the University of Coimbra.
The schedule of commitments began on Monday (04), in northern Portugal. The LAIS/UFRN researchers made a technical visit to the Institute of Biomedical Sciences Abel Salazar, University of Porto (ICBAS/U. Porto), where they were received by the pulmonologist and professor of the Institute, Raquel Duarte, who has been Secretary of State for Public Health of the Portuguese Government, and by Adriano Bordalo e Sá, director of the Department of Population Studies of ICBAS/U. Porto.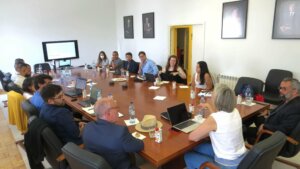 Representantes dos dois países expuseram iniciativas desenvolvidas, principalmente, na área da saúde pública. Do lado português, foram destacados projetos relacionados à estratégia de combate à covid-19 e aos estudos referentes à tuberculose e à silicose pulmonar, doenças comuns nessa região portuguesa. Só para se ter uma ideia, a silicose é responsável por grande parte dos casos de afastamento do trabalho de mineiros, metalúrgicos, operários da construção civil, da indústria do cimento e de outras categorias expostas à poeira de sílica, mineral que está nas rochas, areias, quartzo e em outros materiais.
Do lado brasileiro, coube ao diretor executivo do LAIS/UFRN, Ricardo Valentim, apresentar iniciativas desenvolvidas pelo Laboratório e destacar o grande volume de dados epidemiológicos produzidos pelas ferramentas tecnológicas criadas, especialmente, durante a pandemia da covid-19. "Nós temos dados sobre vacinação, fabricantes de imunizantes, regulação de leitos hospitalares, essa acurácia foi fundamental para a tomada de decisões por parte de gestores públicos e, agora, esse enorme fluxo de informações precisa ser analisado e nós estamos abertos para discutir de que forma".
Ao final das exposições, a professora Raquel Duarte, da Universidade do Porto, fez uma avaliação do que foi discutido. "Eu vejo muito promissor, este intercâmbio entre as duas instituições, temos uma série de áreas em comum, quer na área de doenças infecciosas, quer na área das doenças não-transmissíveis, há claramente um grande campo de trabalho que pode ser otimizado de forma conjunta".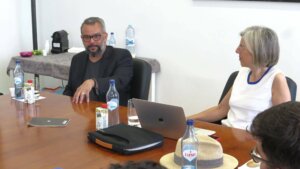 Já o diretor do Departamento de Estudos de Populações do ICBAS/U. Porto levantou a possibilidade de o LAIS/UFRN e a Universidade do Porto atuarem em regime de cooperação em projetos direcionados às populações de países do continente africano que falam português. "Eu penso que temos um grande futuro para combater a miséria, para melhorar a saúde das populações que estão muito esquecidas em África".
Nesta terça-feira (05), os pesquisadores do LAIS/UFRN e do Núcleo Avançado de Inovação Tecnológica (NAVI/IFRN), que também integram a delegação brasileira, visitarão o Instituto de Engenharia de Sistemas e Computadores, Tecnologia e Ciência (INESC TEC), ainda na cidade do Porto. Na quarta-feira (06), será a vez da Universidade de Coimbra receber nossos pesquisadores para debater parcerias.