By Bruno Cássio – Ascom LAIS
Started in 2018, the technical cooperation between the Laboratory for Technological Innovation in Health (LAIS/UFRN) and the University of Lorraine, in France, through the Lorraine Research Laboratory in Computer Science and its Applications (LORIA), presented important results such as the production of solutions to problems in the areas of intelligent systems and data processing in public health. This Friday (01), in Nancy, researchers from both countries met again for a full day of debates on education, innovation, health and new projects.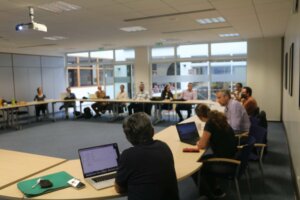 The director of LORIA, Jean-Yves Marion, recalled that these meetings were interrupted because of the covid-19 pandemic, highlighting the joy of being able to resume face-to-face activities of scientific collaborations. In the morning, the Brazilian laboratory researchers presented initiatives developed in various areas such as the "Syphilis No" and revELA projects, as well as the Salus platforms and those that make up the technological framework created to fight covid-19.
In the afternoon, it was the French researchers' turn to give more details about their projects in the areas of education, information systems, and neuroscience. The executive director of LAIS/UFRN, Ricardo Valentim, presented the proposal to renew the Work Plan, between the two institutions, from 2023 to 2028. "Looking to 2028, we can work on the evaluation of public policies in health, in the axis of epidemiology, using artificial intelligence, and also incorporate care for rare diseases, working with technologies and protocol improvements."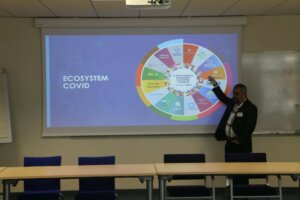 At the end of the meeting, it was defined that by the end of July 2022, the terms of each party should be presented, so that the technical cooperation can be renewed. For Azim Roussanaly, professor at the University of Lorraine and LORIA researcher, it is "very important and enriching to make this connection between the two teams and can discuss, in a creative way, how to improve this partnership work". LAIS/UFRN researchers Thaisa Lima, Carlos Alberto Oliveira and Sedir Morais, who attended the workshop, are expected to follow the progress of these discussions.