By Valéria Credidio – Ascom LAIS
Natal will be the first capital city in Brazil to receive the situation room for monitoring syphilis cases. The room is part of the implementation of the Salus 2.0 system, developed under the project Syphilis No, by the Laboratory for Technological Innovation in Health (Lais/UFRN). The benefit was agreed between LAIS and the City Hall, during a visit to the laboratory by the municipal Chief Executive, Álvaro Dias, which took place this Thursday (9).
Álvaro Dias learned a little about the work developed by the laboratory, with emphasis on the projects Syphilis No, revEla, and the Genomic Research Laboratory, which will be the first in the Northeast region and the third in Brazil.
For the mayor of Natal, the partnership with LAIS is of utmost importance, considering all the experience developed over the years. "This partnership is fundamental for the eradication of syphilis," he emphasized.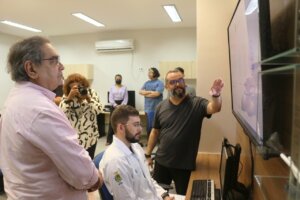 According to the executive director of LAIS, Ricardo Valentim, the partnership with the Municipal Executive will strengthen primary care and surveillance, ensuring greater access of the population to the health system. "This will reflect in the eradication of congenital syphilis in the city of Natal," he explained.
In March, the mayor received a delegation of LAIS researchers
This was the second meeting of LAIS representatives with Mayor Álvaro Dias. In March, during a meeting held at the Palácio Felipe Camarão, headquarters of the Executive of the Potiguar capital, the mayor was presented with the proposal of the Salus 2.0 system. At the time, Dias expressed interest in getting to know the laboratory and implementing the system in the city's public health network. "Today we received a committee from LAIS to discuss a cooperation between the city hall and the laboratory in order to eradicate congenital syphilis in Natal. We have every interest and we will participate. God willing, and with everyone's participation, we will eradicate congenital syphilis in the municipality of Natal," he added.
According to Professor Valentim, the meeting was very important to align the technical and scientific cooperation for the implementation of the platform, and the set of actions that will improve the work processes, the management of syphilis cases in pregnant women and the Single Therapeutic Protocol. Effective actions to consolidate work processes that will contribute to the elimination of congenital syphilis in Natal-RN. "This is a technical cooperation that has the potential to place Natal as the first capital of the country free of vertical transmission of syphilis between mother and baby," explained the LAIS director.