By Bruno Cássio – LAIS/UFRN Communications Office  
In a straight line, more than 7,000 kilometers separate Natal, the capital of Rio Grande do Norte, in Brazil, from the Italian city of Parma, in the north of the country. And if we calculate the distance overland between Parma and Myanmar, a Southeast Asian nation, it exceeds 11,000 kilometers. But this didn't stop researchers from the Laboratory for Technological Innovation in Health of the Federal University of Rio Grande do Norte (LAIS/UFRN) and the University of Parma from reaching this week, in Italy, a historic milestone in the international cooperation field.
A technical cooperation agreement, bringing together representatives from Brazil and Italy was signed after several discussions held on September 6, 7, and 8, 2022, inside the complex of hospitals and research laboratories of the Italian university. The starting point of this international collaboration is to work on the qualification of Myanmar medical students by providing them with Open Educational Resources in the areas of syphilis, sexually transmitted infection, and other global health problems.
While signing the cooperation agreement, LAIS/UFRN's executive director, Ricardo Valentim, highlighted that in AVASUS, the SUS Virtual Learning Environment, there are already several training courses that can be adapted to the Asian country's reality. Following the example of the successful experience in Tanzania, Africa, regarding the qualification of volunteer health agents, "which does not avoid the production of new materials, according to the specific demands brought up by this public", he added.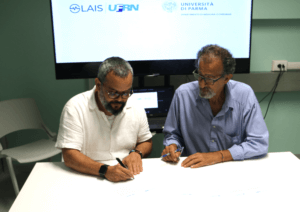 Besides the medical students, the expectation is to help in the development of professionals who work in the Myanmar health system: "this country has faced problems within the democratic issues, which has harmed the training of health professionals, so LAIS and the University of Parma are joining together in a humanitarian technical-scientific cooperation project", clarified the leader of the Brazilian Laboratory.
According to Leopoldo Sarli, professor of the Department of Medicine and Surgery at the University of Parma, Myanmar's medical students have stopped attending classes in protest against a coup d'état that took place in February 2021 when the military took over the country. In this context, "the agreement signed with LAIS is very important to work on the concept of health as a means to democracy access and basic rights", added the Italian professor.
Now, the rectors of the two educational institutions must ratify this agreement for the beginning of the first goals established in the work plan, which includes the insertion of students at master's degree, doctorate, and post-doctorate levels, from Italy and Brazil, in the conduct of research.