By Bruno Cássio – Ascom LAIS
The expertise of the Technological Innovation in Health Laboratory (LAIS/UFRN) in the formulation of solutions that involve the use of technology to address global problems of public health, accredited the Laboratory to the prospection of new partnerships in Europe. During June 28 and 29, researchers from LAIS/UFRN participated, in Paris, France, in the LAIS/France Université Numérique Workshop "Weaving Inter-institutional Relationships and Partnerships".
On the first day of programming, Jacques Dang, Secretary of the Administration Council of France Université Numérique, coordinated the presentations of projects developed by institutions of both countries in the areas of education, health and innovation. In a noble hall of the International Center for Pedagogical Studies, France Éducation International, the executive director of LAIS/UFRN, Ricardo Valentim, and the Lab's researchers, Carlos Alberto Oliveira, Cristine Gusmão, and Sedir Morais presented the main initiatives executed, highlighting the actions of the Project "Syphilis No" and the set of platforms created for the confrontation with covid-19.
On the second day of activities, the meeting took place at the headquarters of the Société des Ingénieurs et Scientifiques de France (IESF), an entity that represents French engineers and scientists. The Brazilian and French researchers discussed the terms that will be used in a future partnership: "we established with them, a set of actions that will be in a cooperation term between LAIS/UFRN and the Université Numérique, which is a French Government university, to expand our work in French-speaking African countries", said the LAIS/UFRN researcher, Carlos Alberto Oliveira.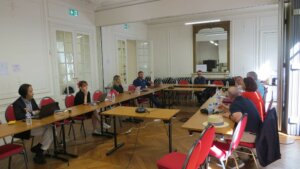 For LAIS/UFRN's executive director, Ricardo Valentim, "this cooperation is very important, just like the others, it is a horizontal cooperation, where we learn and teach other researchers from the universities where we are cooperating and it is another moment to discuss public health policy in the global context". The director of LAIS/UFRN formalized an invitation for representatives from France Université Numérique to learn more about the work of the Laboratory, at its headquarters, in Brazil.
Jacques Dang, who is also responsible for international partnerships of the French university, was impressed with the work developed by LAIS/UFRN and pointed out that UNESCO, the United Nations Educational, Scientific and Cultural Organization, headquartered in Paris, has supported several works carried out in African countries, which have French as one of their main languages, and the experience of the Laboratory in Tanzania, with the production of Open Educational Resources for the training of community health agents, is a determining factor for sharing this knowledge with more countries of that continent.