Induce public policies through resources that go beyond "prevent". This and other issues were discussed in the 2022 edition of "Syphilis In Rio", an event promoted by the Brazilian Society of Sexually Transmitted Diseases (SBDST), and took place this Thursday (27). The Laboratory for Technological Innovation in Health (LAIS/UFRN) participated in the debate through its executive director, Professor Ricardo Valentim.
Held in a virtual format, the debate cycle gathered specialists to discuss the problematic of the disease and its challenges. In his speech, held during the science thematic cycle, LAIS director highlighted the importance of scientific communication actions developed by the "Syphilis No" Project, developed by the Ministry of Health in partnership with the Pan-American Health Organization (PAHO) and executed by the laboratory. "Since its creation and implementation, the 'Syphilis No' project has been a tool from the Ministry of Health for inducing public policies to confront syphilis in Brazil," he said.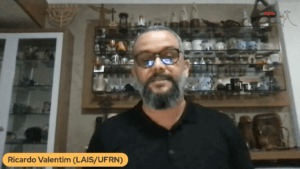 Valentim also highlighted that since the beginning of the project, the country has registered an increase in the detection of syphilis cases in pregnant women, at the same time that it had a reduction in congenital syphilis cases. "It is a positive data, because it shows that the screening, provided by the induction of public policies, has been effective," he added.
The debate on science also had the participation of Angélica Espinosa Miranda, general coordinator of Sexually Transmitted Infections Surveillance and eventual substitute of the directorate of the Department of Chronic Conditions Diseases and Sexually Transmitted Infections (DCCI); of professor Maria Luiza Bazzo, coordinator of the Laboratory of Molecular Biology, Microbiology, and Serology at the Federal University of Minas Gerais (LBMMS/UFMG); and of Lorenzo Giacani, associate professor at the Department of Global Health at the University of Washington.
Event promoted an exposition on syphilis
Besides the discussions about syphilis treatment and prevention, the event also promoted the exhibition "Syphilis: History, Science, Art", promoted by the Ministry of Health.
The exhibition takes place at the Paço Imperial Cultural Center, in Rio de Janeiro. To learn more, access: http://exposifilis.aids.gov.br/.