By Arthur Barbalho – Ascom/LAIS
The international cooperation agenda of the Technological Innovation in Health Laboratory (LAIS/UFRN), held with Johns Hopkins University, in Baltimore, United States, ended on Monday (23). The mission registered significant advances in projects already underway between the research centers, besides the alignment of a partnership for the implementation of clinical research with the American institution and also with the National Institutes of Health (NIH).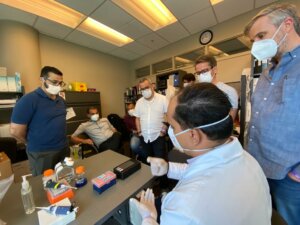 The meetings started on May 19th. At the time, the group of researchers presented the rapid testing device for syphilis. The prospect is that the equipment will be integrated with primary health care in Brazil. "Besides diagnosing syphilis, when it is used in health facilities, the device may be adapted to detect other infectious diseases as well," said Leonardo Lima, PhD in Immunology and a researcher at the laboratory.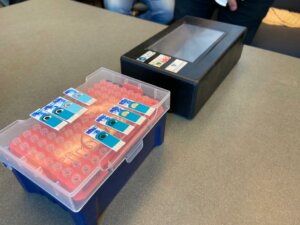 The point was also reinforced by the Johns Hopkins researcher. "I was very excited when I saw the results of the presentation of the device, where you can put up to four different samples and detect antigens and antibodies, being able to make the diagnosis of different diseases," said scientist Dr. Lúcio Gama.
Partnerships in clinical research
Besides the work in the scope of the "Syphilis No" project, the group also discussed another important action, aimed at acting in the field of clinical research. The perspective is that this will occur in partnership with the NIH.
The LAIS director reinforced the importance of this type of activity for the future of the laboratory. "This is an area that we have total interest in, and that can place LAIS and RN as relevant players in the field of clinical research, even more so by working in partnership with the NIH in the United States. We have, through the Brazilian Company of Hospital Services, a nationwide hospital network with a lot of potential to develop this area in Brazil," he concluded.