By Bruno Cássio – Ascom LAIS
The Hospital Estadual da Mãe (HMãe), in Mesquita/RJ, in Baixada Fluminense, serves pregnant women from about 10 municipalities in the region. The hospital was chosen to start, on Wednesday (22), phase 2 of the Salus 2.0 system implementation. The idea is to train the professionals who work in maternal care to feed the system, in real time, with data about syphilis notifications in pregnant women and the management of congenital syphilis cases.
According to Fernando Lucas de Oliveira, one of the people responsible for the training, the first visit by researchers from the Technological Innovation in Health Laboratory of the Federal University of Rio Grande do Norte took place in December 2021: "Now, we have brought to Mesquita two of our programmers with the mission of writing down all the suggestions for improving the platform, to completely meet the needs of local health professionals.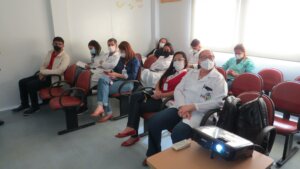 For the coordinator of the outpatient clinic of Hospital da Mãe, Michele Santos, the Salus platform will facilitate the work of filling out the syphilis notifications: "it will put an end to the problems of the doctor or nurse filling out some missing information and we will have to return with the SINAN to be redone". The Information System of Notifiable Diseases (SINAN) is used by the Ministry of Health throughout the country. Salus works in an integrated way with this national database.
According to Taiana Azevedo, coordinator of the Teaching and Research Center (NEP) of HMãe, by excluding the described part, which is often done manually and causes a lot of confusion, such as filling in the name, address, and gestational age, the platform will give more accuracy to the data: "it will be digital, will reduce errors, and will also serve for a greater monitoring, even for epidemiological data here at the maternity".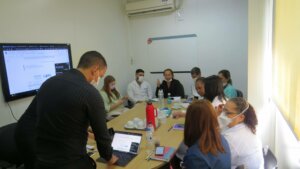 The researchers Fernando Lucas de Oliveira, André Noronha, and Nícolas Veras, as well as programmers Cristian Filho and Abner Silva were part of the LAIS/UFRN team during this second training session.