Researchers from the Technological Innovation in Health Laboratory of the Federal University of Rio Grande do Norte (LAIS/UFRN) participated last Tuesday (17) in a meeting at the headquarters of the Open University of Portual (UAb), in Lisbon. In the meeting's agenda, the cooperation activities developed between the two institutions and the possibilities of new actions in the future.
LAIS was represented by Professor Ricardo Valentim, executive director, and researcher Pedro Evangelista. Representing UAb at the meeting were Professor Carla Padrel, dean of the university, and Professor Vitor Rocio, director of the Science and Technology Department of the Portuguese institution.
The first part of the meeting discussed the current scenario of the research developed between the two institutions, especially the master's and doctoral degrees that take place in the scope of the "Syphilis No" project. The situations of the LAIS researchers linked to the UAb and the expectations for the defense of the projects were presented, which already started last April and should continue throughout the year.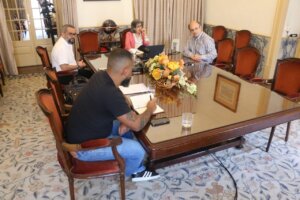 According to LAIS Executive Director, Professor Ricardo Valentim, the expectation is that this new project will further strengthen the partnership already developed between the two institutions. "Today we made this summary of everything that is being done in the project Syphilis No, but we also started the negotiations for this important project that will work on initiatives in the area of data analysis in education, with a focus on the analysis of the impact of human training on health processes," he said.
For the dean of UAb, the current scenario of the partnership between the institutions reinforces the importance of the work that has been done. "We are already long-time partners and in this meeting we discussed the beginning of a new joint work, especially in the area of learning analytics and big data, which will be of paramount importance for what we do here at UAb and I believe also for LAIS," explained the dean of UAb, Carla Padrel.