Bruno Cássio – Ascom/LAIS/UFRN
The Laboratory for Technological Innovation in Health (LAIS/UFRN) has increasingly expanded the activities of technical cooperation for municipalities in Rio Grande do Norte. The second largest city in the state, with a little over 300 thousand inhabitants, will count, from now on, with a tool for intelligent monitoring of syphilis cases. On Tuesday morning (10), the training of health professionals from Mossoró, who will implement the use of the Salus platform in their work routines, was concluded.
The team of LAIS/UFRN researchers, composed of Fernando Lucas de Oliveira, André Noronha and Nícolas Veras, conducted, over two days, the training of employees who work in the fight against syphilis in the Basic Health Units Laíre Rosado, Sinharinha Borges and Cid Salem, as well as professionals who work in the Coordination of Primary Care, Epidemiological Surveillance and the Center for Testing and Counseling (CTA).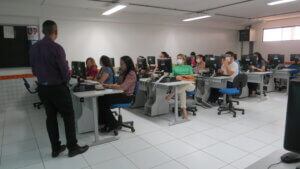 The Municipal Health Secretary, Morgana Dantas, participated in the closing of the training and highlighted the relevance of this partnership with LAIS/UFRN: "we will be able to better monitor, in an intelligent way, the epidemiological diseases in the city of Mossoró, especially those related to syphilis," she emphasized when talking about the advantages of access to this technology and the adherence of health professionals to this initiative.
The participants of the training were instructed to simulate the insertion of a syphilis case in the system. In a few seconds, they had access to a series of data needed to define the adoption of procedures. Lindemberg Mendes, a nurse from UBS Sinharinha Borges, drew attention to the change in the approach to syphilis cases in pregnant women: "we will be able to track, to follow up all the pregnant woman's care, all the treatment, from diagnosis to case closure".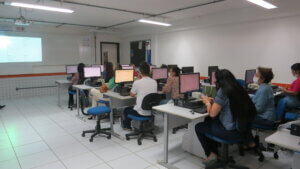 According to Erica Cibele Cunha, Director of Health Surveillance in the Municipal Health Department of Mossoró, the Salus tool will provide the union of two important areas in the provision of services to citizens: "the management was very happy with this partnership with LAIS, to strengthen these ties, Surveillance and Primary Care, so we can monitor and follow up the data and provide better treatment to the population.
No Syphilis Project
The Salus platform was developed in the scope of the "Syphilis No" Project, a partnership between the Health Technological Innovation Laboratory (LAIS/UFRN), the Ministry of Health, and the Pan-American Health Organization (PAHO) to fight syphilis in the Brazilian territory.